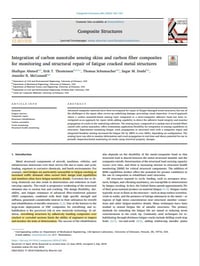 Webinar
Published Research for CNT Monitoring.
If structural integrity means something, this research is meant for you.
MCET is serious about asset integrity sensors. Our passion comes from years of study and research to do one thing: find the best non-invasive way to keep your assets running- and you safe.
We have years of research from patents, research and experience with NSF, DOD, and NIH projects to support your assets.
Just fill out the form and we will send the support research study directly to you. The research papers to choose from are listed below:
Integration of carbon nanotube sensing skins and carbon fiber composites for monitoring and structural repair of fatigue cracked metal structures
Performance Evaluation of a Carbon Nanotube Sensor for Fatigue Crack Monitoring of Metal Structures
Thin and Flexible Carbon Nanotube-Based Pressure Sensors with Ultrawide Sensing Range